A dynamic agency, active and attentive to detail that makes the difference!
Mice And More Events
Mice & More Events born in 2010, has quickly become a concrete and essential point of reference for numerous destinations for Italian and foreign events.
EXCLUSIVE LOCATIONS that want to convey their image and congress proposal aimed at satisfying the needs of Event Industry professionals.
Trust, attention to needs and efficiency, together with over 50 promotional EVENTS held during the year, allow true CORPORATE DECISION MAKERS to rely on the quality and professionalism offered by our Network!
Who we are?
We are the leading agency in the Italian MICE segment. We are contact multipliers. We are business facilitators. We are reliable partners.
What do we do?
We connect supply and demand in a simple, direct and effective way. We create B2B events aimed at bringing together the best MICE offer with the most active Italian Event Managers.
Who trusts us?
Spaces for events, hotels, service providers, convention bureaus and all the realities that need to expand their MICE client portfolio and who, through our events and our communication, come into contact with Event Industry professionals.
Event industry professionals, i.e. Event Managers, Marketing Managers, Travel Managers, P.A. of the most active Italian event companies and agencies.
Thanks to our events, MICE Event Professionals can keep up to date on the offer of the best locations and quickly find ideal solutions for organizing their meetings, incentives, congresses, product launches and much more.
How long have we been making a difference? for over 13 years!
Explore our network and events
To discover all our services explore the network and events sections of the site!
Mice & More Staff
Problem Solving, Dynamism and Reliability: the three adjectives to describe the Mice & More Team, always ready to support you!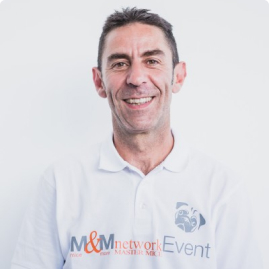 The creative one of the team as well as CEO! It always produces innovative and winning formats with extreme ease. In tune with the Mice&More Network and with all the people who are part of it!
Giusi Pagano
Director of Marketing & Communications
Her head is always full of new ideas, ad hoc communications and graphics for Mice&More. She loves site inspections to get to know each structure in detail and offer it to those who rely on the free event consultancy service of M&ME!
Katia Toscano
Director of Business Development
Customers adore her for her radiance, sympathy, professionalism and patience, and so do we. If you are a hotel or a location and you want to expand your business in the MICE sector, write to Katia!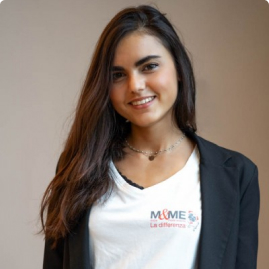 Carlotta Papi
Events Department
The one who writes, calls and sometimes chases the Sales Managers of the entire Italian hotel sector, to achieve the perfect organization of their participation in the Mice&More Events. Distinguishing marks: precise, sunny and curious!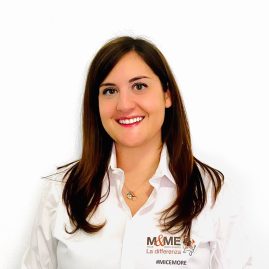 Simona Girelli
Events Department
Recently joined the Mice&More team, she has made her daily bread of newsletters, website and event tabs. There's something to worry about when she's silent… but it almost never happens. Distinguishing marks: fussy, cheerful and patient!
Alessia Cozzi
Events Department
The day can be full of unexpected events but one thing is certain: Alessia will enter the office smiling! She has recently joined the Mice&More team and has already decided that she must have to know everything about the events and the places that host them. She likes to do a little bit of everything but organising, learning and traveling are her favorite verbs!
Simona Parini
Content Creator
She has always written about Mice: she loves discovering new locations and learning about industry trends. She takes care of the press office of Federcongressi&eventi, the association of the Italian meeting industry. Distinguishing marks: she dreams of going to live in the mountains with her dog Diana!